What Time is It? SUMMERTIME!
June 10, 2022
It is officially HOT outside and Ideal Homes & Neighborhoods has exactly what you need on a hot summer day. When you buy your Ideal home in Norman, Edmond, Harrah, Yukon, or somewhere else across the Oklahoma City metro, we have splash pads ready for you in 8 of our neighborhoods. Splash pads are a great way for you and your children to cool off and have fun while still being close to home. Our splash pads have many water features that are fun for everyone and will for sure entertain your little ones.
Splash Pads located in Norman, Oklahoma: Trail Woods, Greenleaf Trails, Red Canyon Ranch
Trail Woods is located on the North side of Norman. This neighborhood has many great amenities including the splash pad. Some other great amenities include a playground with fun equipment, a basketball court, ponds, well-lit sidewalks for evening strolls, and it is a minute away from the Cleveland County YMCA.
Greenleaf Trails is located off Tecumseh Rd., just north of the Trail Woods neighborhood. This neighborhood not only has a splash pad, but also a playground, walking trails, and butterfly gardens. All these amenities are great for children, and even for adults, to spend a nice quiet day enjoying the family or just getting some alone time. Another great amenity in this neighborhood is the quiet pond access with catch-and-release fishing and direct access to Tecumseh Rd. where you can easily explore the East and West sides of Norman.
Red Canyon Ranch is located on the North-East side of Norman off Tecumseh Rd. This neighborhood has a brand-new splash pad and playground. These amenities are great for children and give adults the chance to relax for a little bit while the little ones play. This neighborhood is very relaxing with the beautiful views of Downtown OKC and a peaceful walking trail. This neighborhood also has super easy access to 1-35.
Splash Pads in Mustang and Yukon, Oklahoma: Somers Point, Skyline Trails, Castlewood Trails
Somers Point is located in North-West Mustang, close to Yukon. This community has a beautiful pavilion in the middle of its playground that is great for relaxing or hosting birthday parties. This community also has a splash pad. Somers Point is also located just minutes away from great shopping and dining on Garth Brooks Blvd.
Skyline Trails is located in North Mustang close to Yukon just down the street from Somers Pointe. This neighborhood includes a brand-new splash pad and playground along with well-lit sidewalks for evening walks with family and friends. You will always have something fun to do in Skyline Trails.
Castlewood Trails is located in East Yukon, very close to the Kilpatrick Turnpike. Castlewood Trails has a lot to offer such as a splash pad, playground, picnic pavilion, walking trails, and beautiful green space to play with dogs or just hang out at. This neighborhood is also very quiet and is just minutes away from Lake Overholser.
Splash Pad in Edmond, Oklahoma: Valencia
Valencia is located in West Edmond. This is our largest community with over 30 acres of parks and open spaces. Valencia also has splash pads, walking trails around scenic ponds, three large playgrounds, a pavilion with picnic tables at every park, and sports fields for practice.
Splash Pads in Moore, Oklahoma: Featherstone, Abbot Lake
Featherstone is located on the South-West side of Moore. This neighborhood is very family-friendly and has a lot to offer. Not only does this neighborhood have a splash pad, but it also has a playground, duck pond, and great access to I-35 and I-240. This neighborhood also has a covered pavilion that overlooks the duck pond.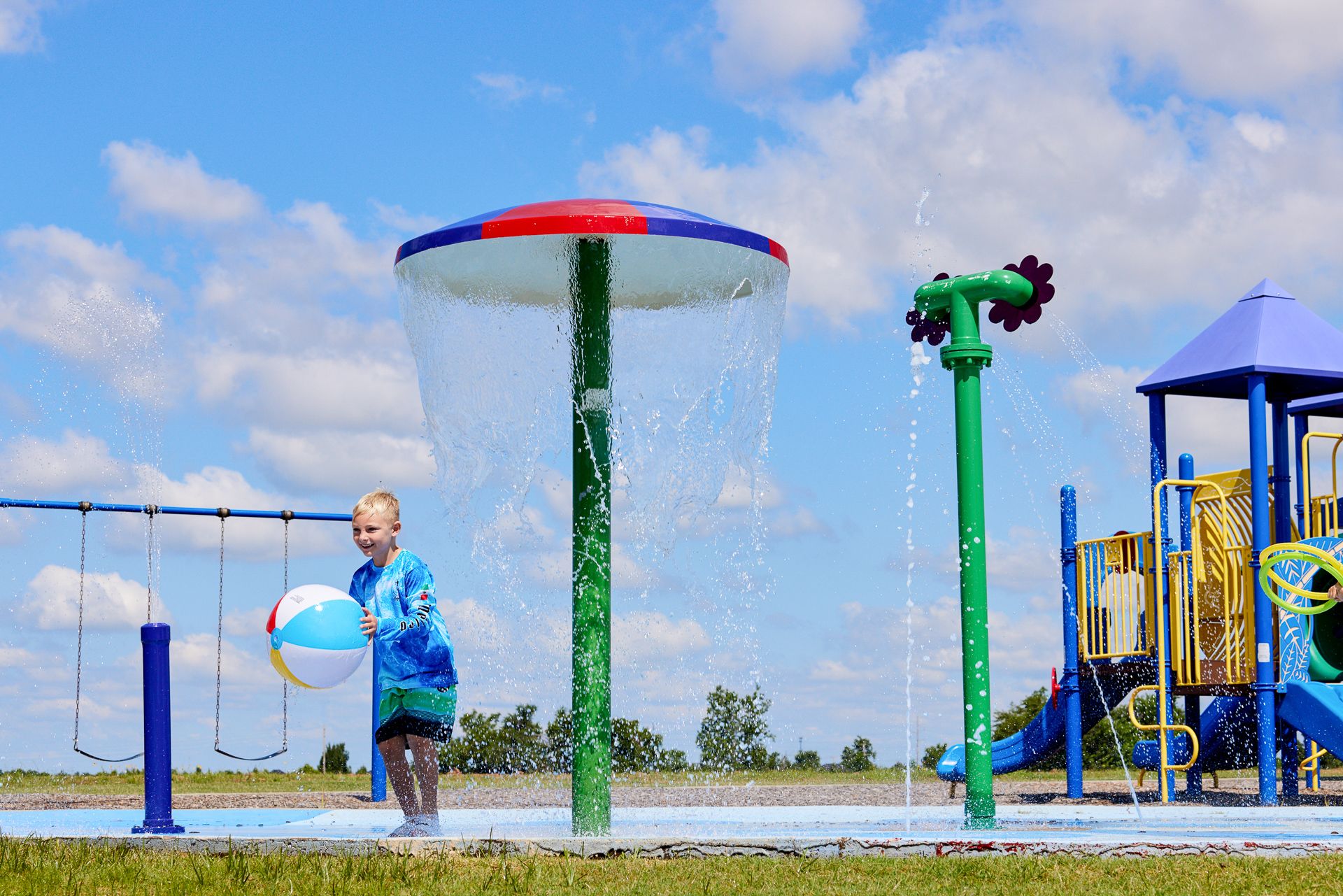 COMING SOON!
Coming soon to Abbot Lake on the East side of Moore will be a brand-new playground and splash pad overlooking the huge pond in the center of the community. Walking trails and a soccer field will add to the incredible amenities that make this community feel like home.